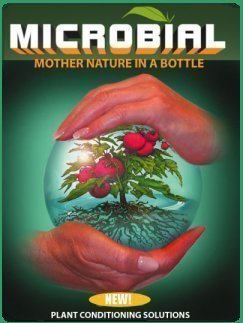 How to use Microbial
Microbial can be used as a rootzone or plant conditioner. When applied at the recommended dosage rates, Microbial will naturally aid plants to withstand attacks from most common pests as well as fungal and bacterial pathogen outbreaks, including fusarium, pythium, rhizoctonia, phytopthera, sclerotinia.
When added directly to plant nutrient solutions, root zone health will be improved enabling the rootzone to uptake oxygen, nutrient and water at a much faster rate.
Tank dosing
Add 1ml to 2 litres of nutrient solution on a weekly basis or whenever solutions are replaced. Apply this rate for any additional water added to tank after initial dose. Continued use as a maintenance measure will assist the plant to keep most problems from developing at any stage of its growth. For intense dosing of media systems to assist with rootzone problems, total saturation of the media weekly with a pre dosed tank mix of 1ml per litre would be advisable. One application should be sufficient but daily dosing would be advisable until an improvement in the plants health has been observed.
Spraying
Microbial when applied directly to foliage or stems rejuvenates the plant allowing it to naturally withstand many moulds, mildews and algae outbreaks. In tests to date Microbial has shown that it enhances plant health and improves immunity against botrytis, blight, fusarium, leaf mould, stem rot and powdery mildew.
Conditioner
Dilute 1 part Microbial to 5 parts water into a fine mist sprayer. Apply directly to all leaf and stem areas of the plant.Applications may be repeated once a week at this dosage rate as a preventative maintenance measure.
Microbial has shown to be an effective plant conditioner that improves plant health. Healthy plants often naturally withstand outbreaks of many common pests including fungus gnats, aphids, spider mite, and whitefly.
Points to be aware of when using Microbial
Microbial is a great solution additive to improve the health of plants. Healthy plants are better equipped to discourage pest and fungal outbreaks as well as other bacterial pathogens. Be aware Microbial does not promote beneficial bacterial growth.If you are trying to promote beneficial bacteria growth this is probably not a desirable solution to use.
When dosing tanks with Microbial it may cause the solution to foam up initially, although this will dissipate over time and will not have any adverse effect on plants.
When applying Microbial with a fogger type applicator, be sure to wear a suitable respirator as the mist produced is so fine it may cause breathing problems. Avoid contact with skin and eyes if contact occurs rinse with water.
It is important to note as plant varieties vary greatly it is recommended that growers test for plant sensitivity before applying product on a large scale. The MICROBIAL product range is available in 1L, 5L bottles and 25L drums. Carton quantities are 1L x 12 and 5L x 4. For a more detailed product information or M.S.D.S sheets see here.